Home
Hello!! Thank you for visiting our website. The Galveston County Youth Soccer (GCYS) is a member of the Bay Area Youth Soccer Association (
BAYSA
) and the South Texas Youth Soccer Association (
STYSA
). All of which are under United States Youth Soccer Association (
USYSA
), the United States Soccer Federation (
USSF
), and Federation International de Futbol Association (
FIFA
).
GCYS is a non-profit organization whose purpose is to develop, promote, and administer the game of soccer among players under 19 years of age in the Galveston County area. The club teaches good sportsmanship, encourages healthy competition, and the development of good soccer skills, in a safe environment. The goal is for all children in the club to have fun learning and playing soccer.
Tryouts
Location: Bay Street Park in Texas City
| | | |
| --- | --- | --- |
| U11 - U13 boys and girls | May 13th and 14th | 6 - 8 pm |
| U14+ boys and girls | June 8th and 9th | 6 - 8 pm |
Bring a ball, shin guards, and water!
Sign in at the pavilion to receive your tryout number and head to the fields!
The Texas City & Santa Fe High School Boy's Varsity teams will be playing their District game against each other Friday, March 13th at 8:30 PM in BBVA Stadium after the Dynamo vs. Orlando City SC team.
Both the SF & TC soccer booster clubs are selling tickets at $20.00 each. The tickets are good for
both
the Dynamo and TC vs. SF games.
This price is $4.00 under the general admission pricing, part of the proceeds will be going to both High Schools' soccer booster clubs to support their high school soccer programs.
Tickets can be purchased by contacting either schools' soccer players, booster club members, athletic departments, or schools' offices.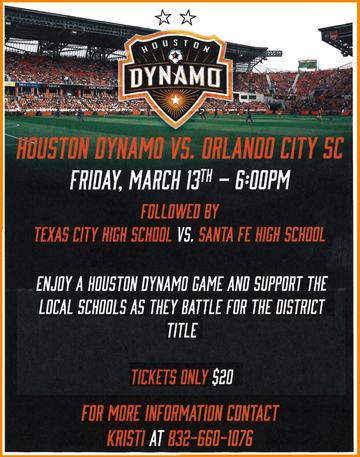 Practices for SHAL (Age groups 8 and 9)
Galveston
Tuesdays and Thursdays
4:30 - 5:30 pm
Sand Hill Crane Soccer Complex
Santa Fe
Tuesdays and Thursdays
5:30 - 6:30 pm
R.J. Wollam Elementary School
Texas City
Mondays and Wednesdays
5:30 - 6:30 pm
Osborne
http://www.shalsoccer.org